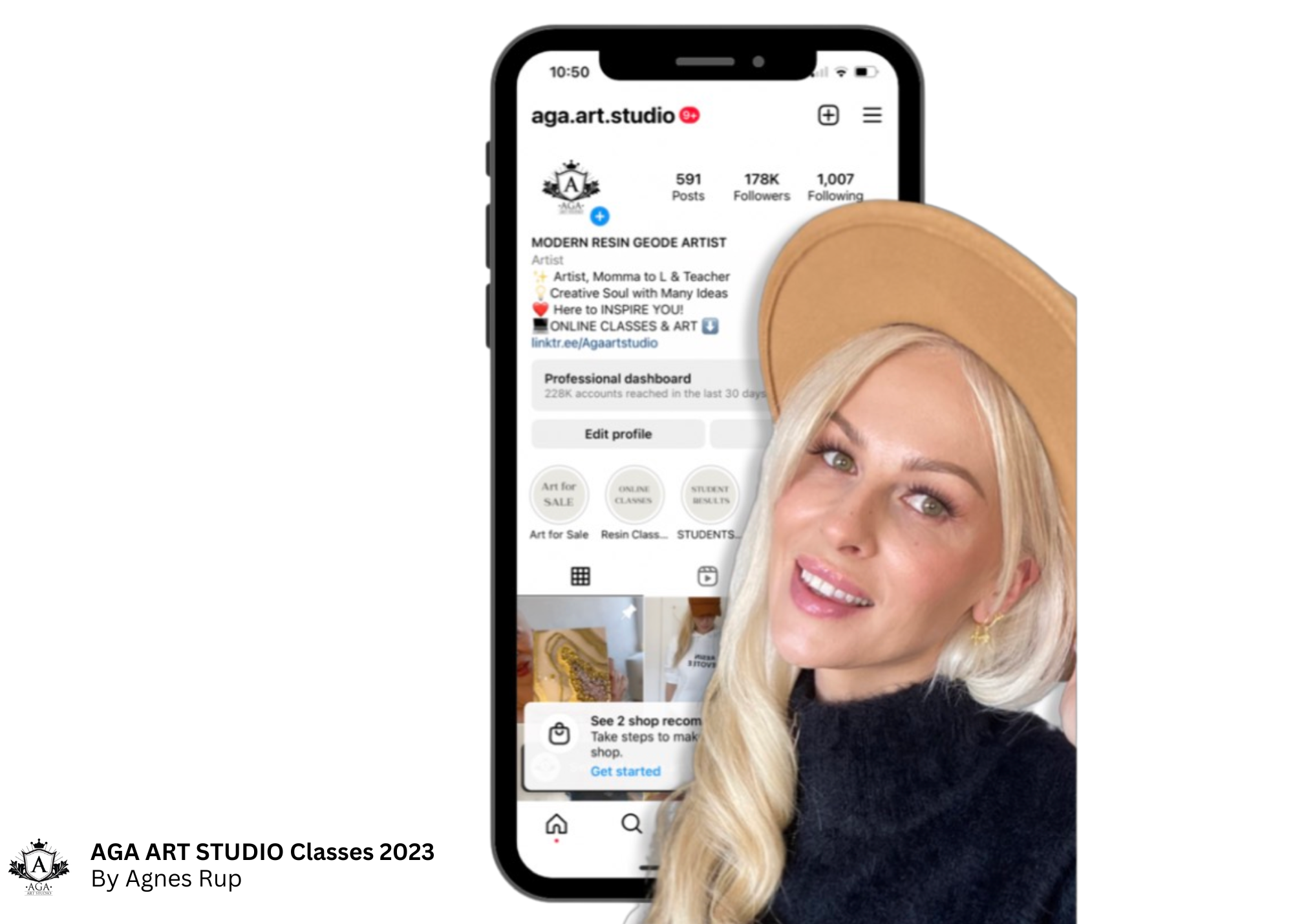 BECOME AN EXPERT AND CERTIFIED BY ARTIST AGNES RUP - LAUNCH YOUR DREAM BUSINESS TODAY!

With all the classes at your fingertips, you have the ability to create stunning geode resin art. Artist Agnes Rup has created a comprehensive business guide to steer you in the right direction as you embark on your business journey. This package comes 8 classes! YES, 8 different techniques to LEARN.
" Years of research, mistakes, and tears have been endured so that you don't have to go through the same experiences. Making it all accessible to you is the goal, ensuring that your journey is smooth and without unnecessary hardships. "
- Agnes Rup

TIPS TO SUCCESS IN RESIN ART - MUST WATCH

How your 2 gallons of resin can make you $3,000 REVEALED.



OVER 9,000 HAPPY STUDENTS
To begin, we suggest watching our video to gain an understanding of the order our classes should be taken.


LEARN IT ALL - ALL CLASSES + BUSINESS GUIDE |$2,500 NOW TODAYS FLASH SALE $797
WHAT'S INSIDE:
12 CLASSES + BUSINESS GUIDE
($2,000 VALUE)
(FOR A BEGINNER TO INTERMEDIATE)
Get the best of all Agnes Rup with 8 classes and the guide to starting your online business and selling your resin art. For the one who is looking to expand into a selling their art our Business Guide you through this. Up to date mini classes of THE NEWEST TECHNIQUES.
CLASSES INCLUDED ARE:
Beginners Guide to Resin Art Class 12"x12" Art
Resin Flower Class
Signature White and Gold Class 24"x 48' Art
2 Functional Art Classes (Coasters + Cheeseboard)
3D Master Class 30" x 40" Art
3 MINI CLASSES
NEW TEXTURES
RESIN ONLY CIRCULAR MOLD
WORKING ON CANVAS
3D MASTERCLASS
(30" X 40" Art Piece)
(110 MIN OF INFORMATION)
Create a eye catch blue/green geode and achieve the 3D aspect on a 30"x40" statement. The structure of the hole gives the impression that you are looking into a geode, creating a beautiful focal point.
- Cut the hole and prep the back of your piece to achieve the 3D look.

- A new way to blend colors and adding pigments to lighten or darken.

- Create coloured gems that won't smudge your art.

- Unleash your inner artist and add those paint lines, glitter and quartz-& other never before shared secrets!
Average selling price of resin art is 1$ per square inch = PANEL IN COURSE: $1,300
SIGNATURE WHITE & GOLD
(24" x 48" Art Piece)
(107 MIN OF INFORMATION)
THE very first class, everyone was curious about, Agnes' signature look, the White & Gold Geode.
In this class we reveal all secrets tips & tricks. You will make a 24" x 48" birch panel into a shimmering gold that catches in the daylight and glitter lines to capture the night light.
- Understand the secrets and layers to resin by creating movement.
- Learn how to carefully apply glitter, pigments, colour and quartz clusters.

- Find out how to achieve the broken stone look using only white and gold.
- Create depth with layers of pen lines.
- Add your unique touches and see your masterpiece come alive!
Average selling price of resin art is 1$ per square inch = PANEL IN COURSE: $1,150
There is a certification of completion at the end of this 5-day class.
FUNCTIONAL ART
(CHEESEBOARD, COASTER + TRAY
(135 MIN OF INFORMATION)
Learn the beauty of functional art, how you can make your own silicon molds and try out some new pouring techniques.

- Make a beautiful pink and purple tray with sparkly knobs and gold edges with matching coasters.
Then give a cheese board a try, a perfect piece for kitchen décor.
- Familiarize yourself with the basics of ventilation, mixing, and pigments.
- Learn how to make your own tray mold out of silicone.

- Apply our pouring techniques to achieve the agate stone look.
- Pour a perfect final layer, sand and paint the sides, and you'll have yourself a brand new cheeseboard & matching coasters!
Average selling price of functional art is $150
Broken into 5 days of classes.
Everything to EMERGE AS A PROFESSIONAL ARTIST.
+ 3 Mini Classes ( SEE PHOTO BELOW )
Blue & White Geode
Gold Leaf Lines
BUSINESS GUIDE
WEBSITE/ETSY
BRANDING YOURSELF
SELLING/PRICING
COMMISSION/CONTRACTS
SHIPPING/PACKAGING
LOGOS/WHERE TO PURCHASE
INSTAGRAM/TIK TOK
PINTEREST
LOCAL CRAFT SHOW




ALL THE CLASSES IN YOUR BUSINESS PACKAGE.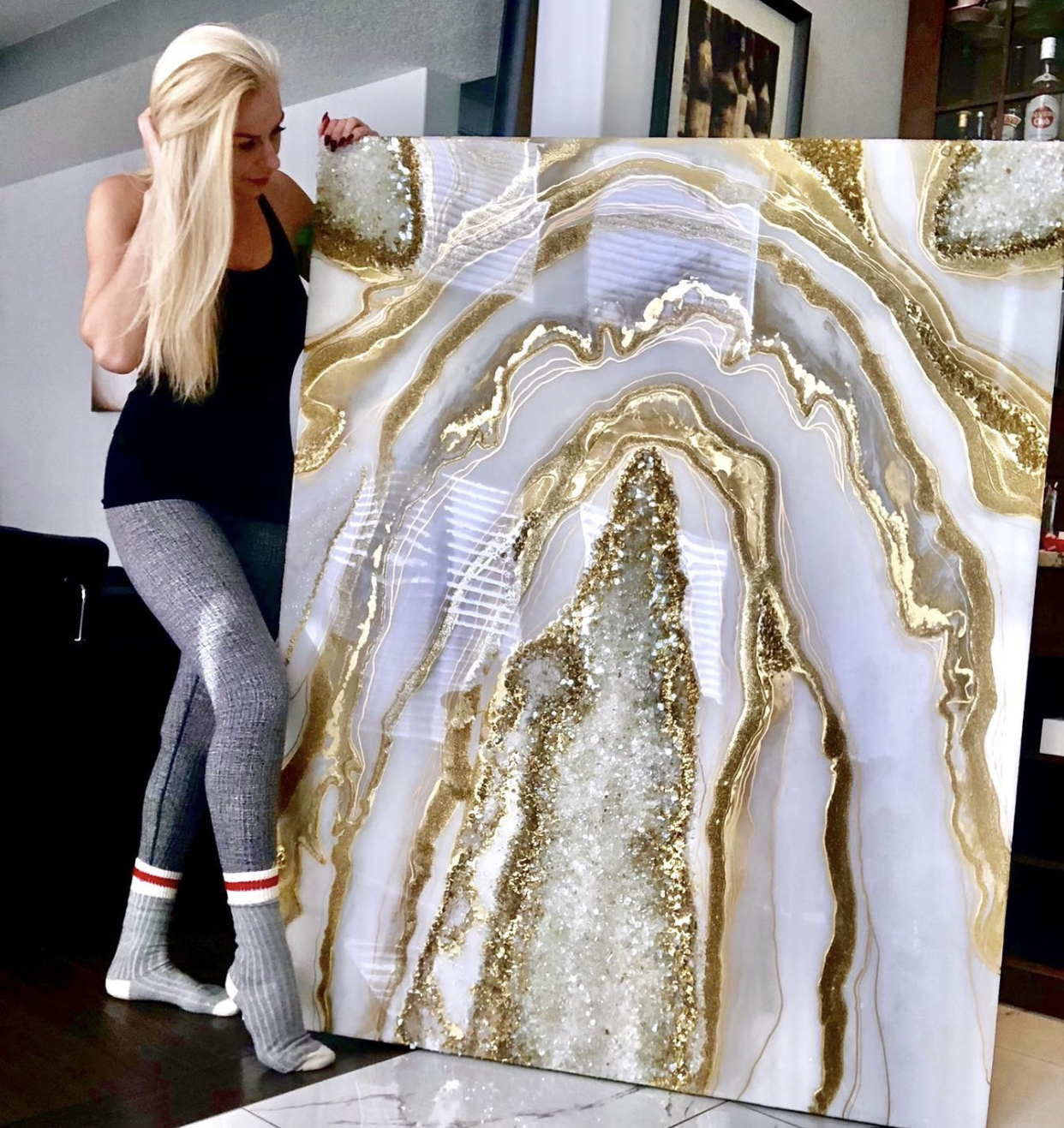 Hi, I'm Resin Artist Agnes Rup

As a seasoned resin artist, I understand the challenges of starting out and navigating the resin world. That's why I've dedicated my time to providing an easy-to-follow process and giving my students the clarity and confidence they need to create stunning artwork. With my help, many students have turned their passion into a thriving business, and you could be next.
Enrolling in my proven classes will gain you the knowledge and techniques needed to make sellable, high-quality art. Say goodbye to confusion and frustration, and hello to a stress reliever. My classes are the perfect opportunity to explore your creativity and experience the fulfilment that comes with creating beautiful art. I have set up 3 Bundle Offers, You can take the courses as far as you want!
A hobbyist or an Art Business. Your choice.
" YES,
I give away all my secrets and knowledge so you can re-create stunning art and release your inner creativity. I have PRE RECORDED each class, meaning you practice on your own schedule while going a pace that suits you. "
-Agnes Rup
Frequently Asked Questions
When does the course start and finish?
The course starts now and never ends! It is a completely self paced online course - you decide when you start and finish
How long do I have access to the course?
How does lifetime access sound? After enrolling, you have unlimited access to this course, across any and all devices.


Bundle Contents
Showcase courses, digital downloads and coaching in your Bundle.