No PREVIOUS art experience NEEDED! Create your OWN CUSTOM ART.
Our #1 SELLING COURSE Lets You Unleash Your Inner Artist: Master Geode Resin Art and Create Stunning Masterpieces That Will Leave Everyone in Awe!"

WHAT IS OUR COURSE ABOUT? WATCH OUR VIDEO >>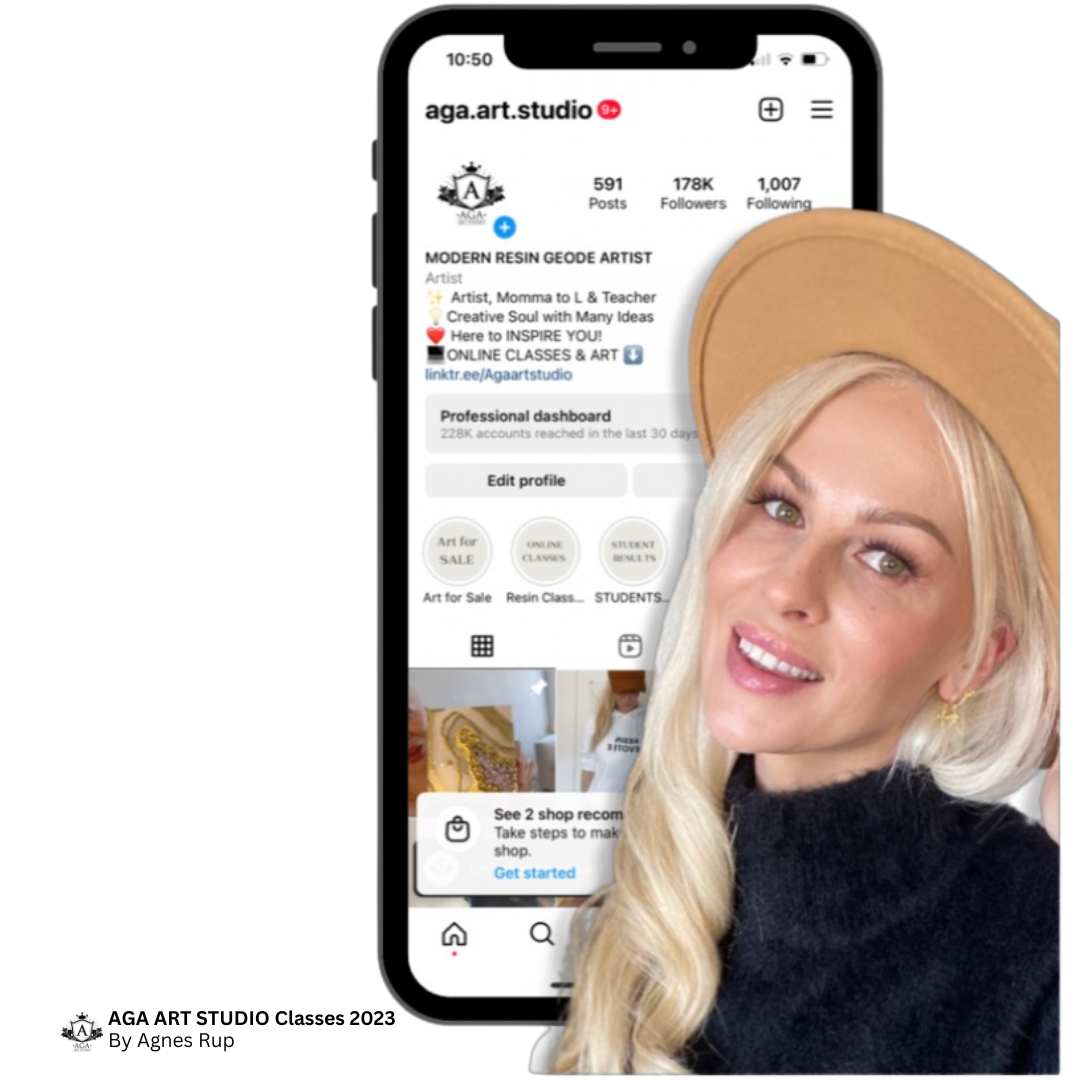 Hi, I'm Resin Artist Agnes Rup

Does this go through your mind?
"I'd love to own custom resin art that I see all over my social media feed"
"I lack the skills to make ART LIKE THAT!"
"I just don't have the time!"
"Sounds Expensive!"
With resin art, you are investing in a skill that can bring in money by selling your art and HUGE savings to have CUSTOM ART in your home.

My classes are designed to give you confidence, each step is broken down into days with easy to follow instructions. I remove complex!
The classes have lifetime access and are self paced, no need to show up for a certain time. Plus you can rewatch as many time as you need!
Why I made the choice to share all my knowledge with you?
I started gaining traction on instagram and my inbox was FULL of questions asking how I made my art. I made the choice to share ALL MY KNOWLEDGE and SECRETS (most artist hold tight to their secrets) I want you to have a fun experience with ZERO TEARS and all the knowledge to success at your fingertips!

I am grateful to be helping you save time, money and frustration by providing an easy to follow process giving you the clarity about resin and the confidence to create stunning art.
I love seeing the happy faces after taking my classes and the beautiful art students are proud of! Also some students have turned this hobby into a full time career. It's all possible.
Start making custom artwork coasters, trays and cheese boards that you dreamed of owning. Create your dream decor for your home or even make extra income!
Either way, you can't go wrong. My classes give you the tools and techniques to make sellable HIGH QUALITY ART.
+ ADD ON OUR RESIN BUSINESS GUIDE AND YOU HAVE ALL THE INFORMATION AT YOUR FINGERTIPS TO SUCCEED IN STARTING YOUR BUSINESS


ENROLL AND GET INSTANT ACCESS TO THE SECRETS OF BEING
SUCCESSFUL AT RESIN ART
5 CLASSES IN MASTER OF RESIN COURSE
30 DAY MONEY BACK GUARANTEE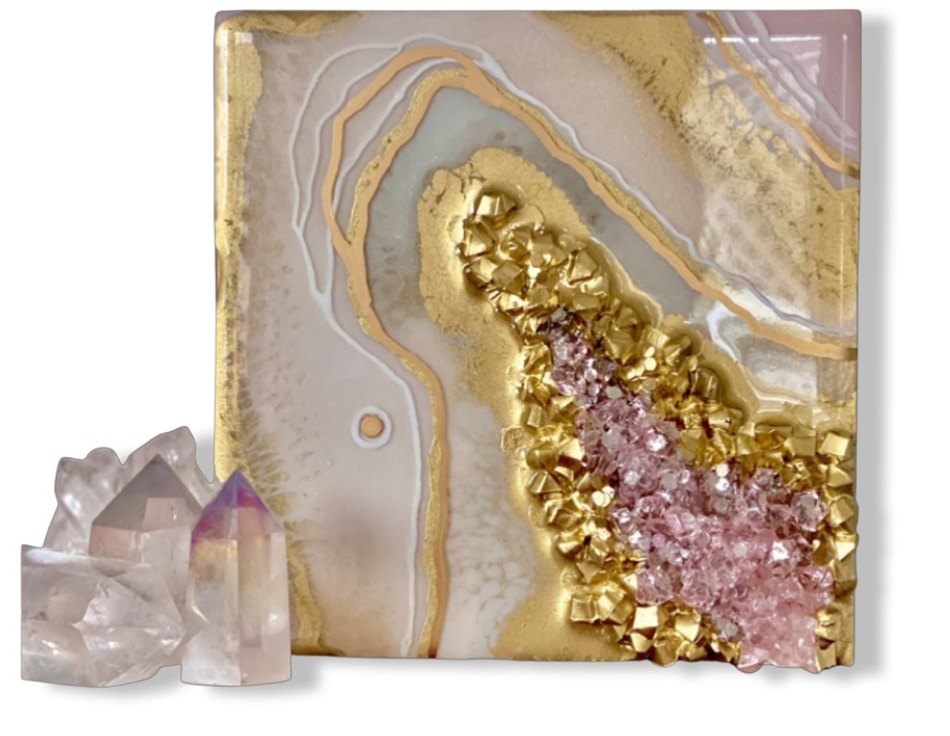 START WITH: Tiny Pink Geode + BONUS AMAZON PRODUCTS PINK MINI (REGULAR PRICE $125)

Learn the BASICS of resin in this class.
( 75 MIN of INFORMATION )
BROKEN DOWN INTO 3 DAYS 
Your FIRST CLASS, where resin is explained. You learn safety, how to work with resin, adding pigment , pouring from cups and working with a heat source as your paint brush. ** A garage or a room with a window for ventilation is a great work space for resin.
Sign up for the course and you'll receive:
1) A clickable material list 2) student-only 20% discount code on Aga Art Studio materials used in class 3) Easy step-by-step instructional videos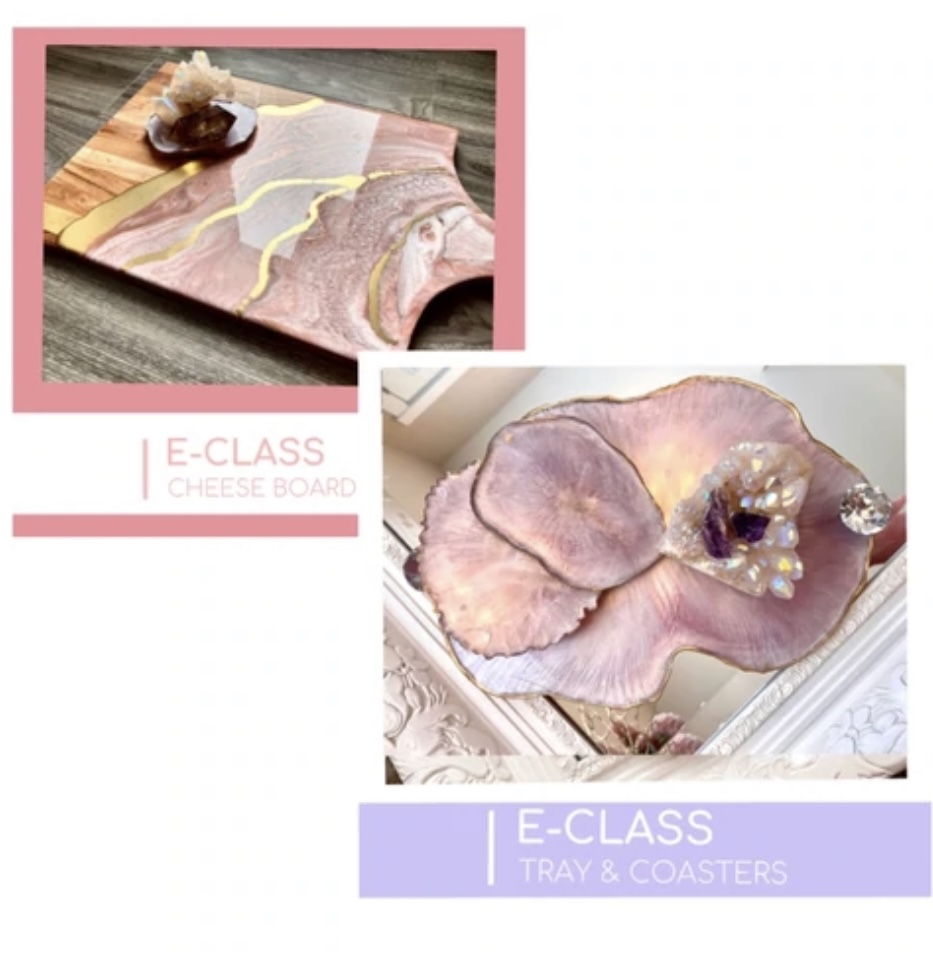 YOUR SECOND & THIRD CLASS: FUNCTIONAL ART
CLASS PRICE $249
(135 MIN of INFORMATION)

Average selling price of functional art is $150
Broken into 5 days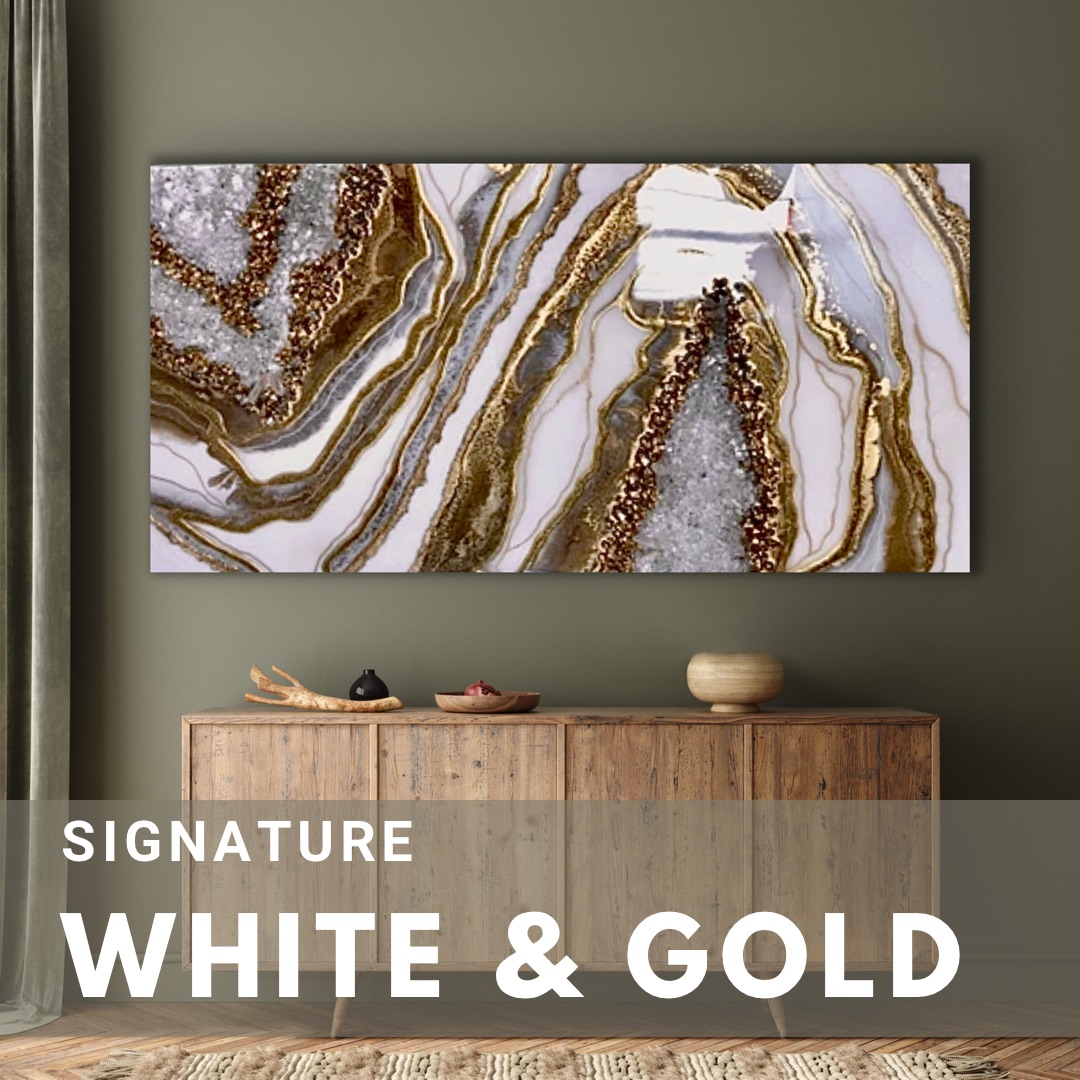 YOUR THIRD CLASS SIGNATURE WHITE & GOLD 24" x 48"
CLASS PRICE $199
(107 MIN of INFORMATION)

Average selling price of resin art is 1$ per square inch = PANEL IN COURSE: $1,150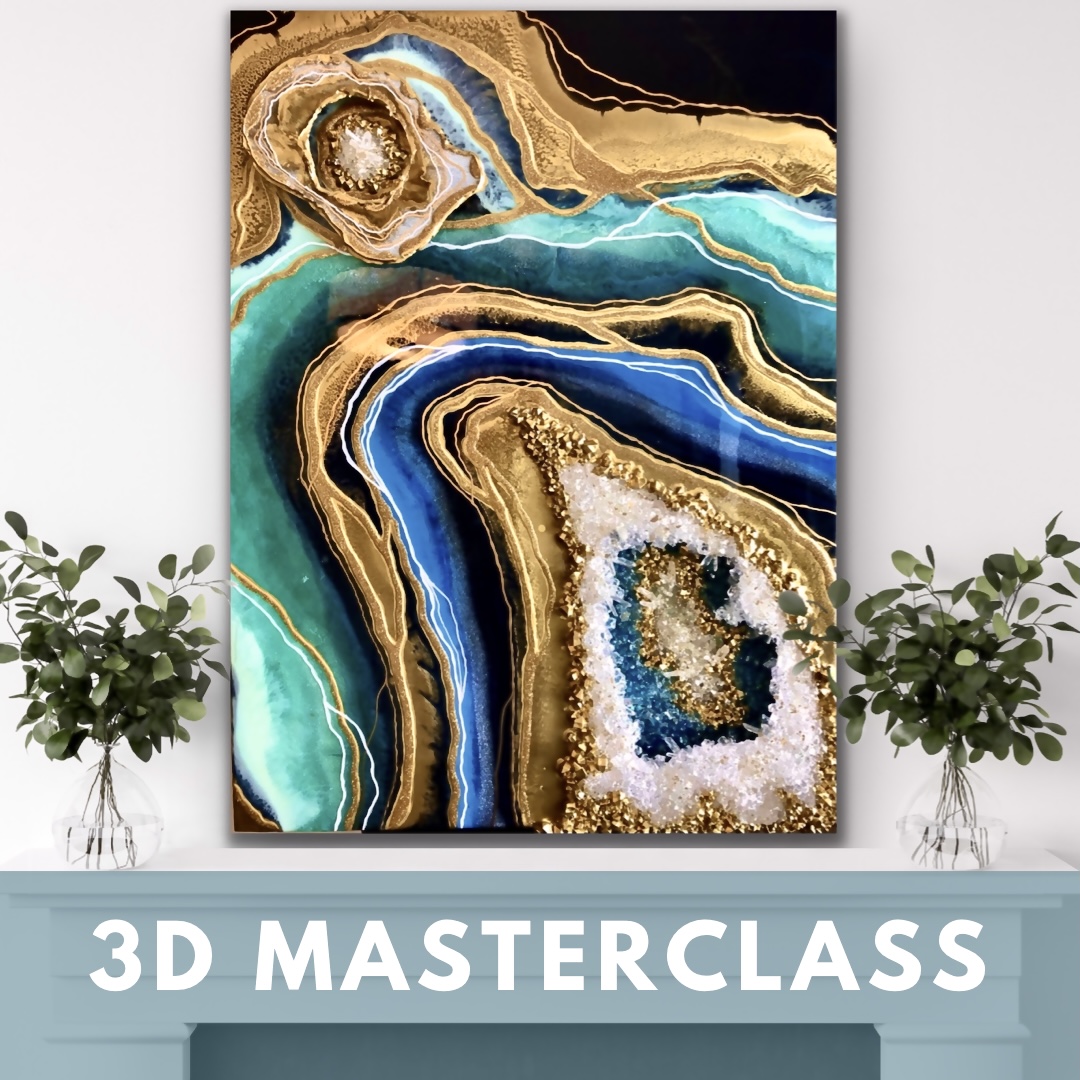 YOUR 5TH CLASS: 3D MASTERCLASS 30" x 40"
CLASS PRICE $225
(145 MIN of INFORMATION)

Average selling price of resin art is 1$ per square inch = PANEL IN COURSE: $1,300
We don't cover the basics in this class, only expert-level stuff here!

GET CERTIFIED BY AGNES RUP
Imagine having the opportunity to learn directly from Agnes Rup herself, a true maestro known for pushing the boundaries of resin art. With her expert guidance and invaluable insights, you'll gain the skills and knowledge needed to unleash your creativity and bring your artistic visions to life.
Don't miss this once-in-a-lifetime opportunity to learn from a true artistic genius. Enroll now and embark on a remarkable journey towards artistic excellence with Agnes Rup's geode resin art certification program!

THIS COURSE IS FOR YOU IF:
ENJOY SAVING MONEY: This course is valued at over $800, and many students paid full price for each class! This bundle is a CASH SAVER. After this sale, we go back to $554!
ENJOY SAVING TIME: All the information you need all in one spot, with a list of clickable materials to purchase.
WANT CLARITY ABOUT RESIN: Our classes are well laid out, answering a lot questions you probably have about resin art.
WANT TO BE PART OF THE COMMUNITY: Have questions, we have a Telegram community + Facebook community.
WANT CONFIDENCE: Our classes are all about giving you the knowledge which creates confidence to start your resin journey.
YOU ENJOY SELF PACED CLASSES: Go at your own speed, some people learn better by rewatching a few times.
WANT TO CREATE EXTRA INCOME: You can sell your art to help with the cost of your hobby.





PROVEN RESULTS
BE OUR NEXT SUCCESS STORY

" Wanted to share what I made after your 3D Masterclass "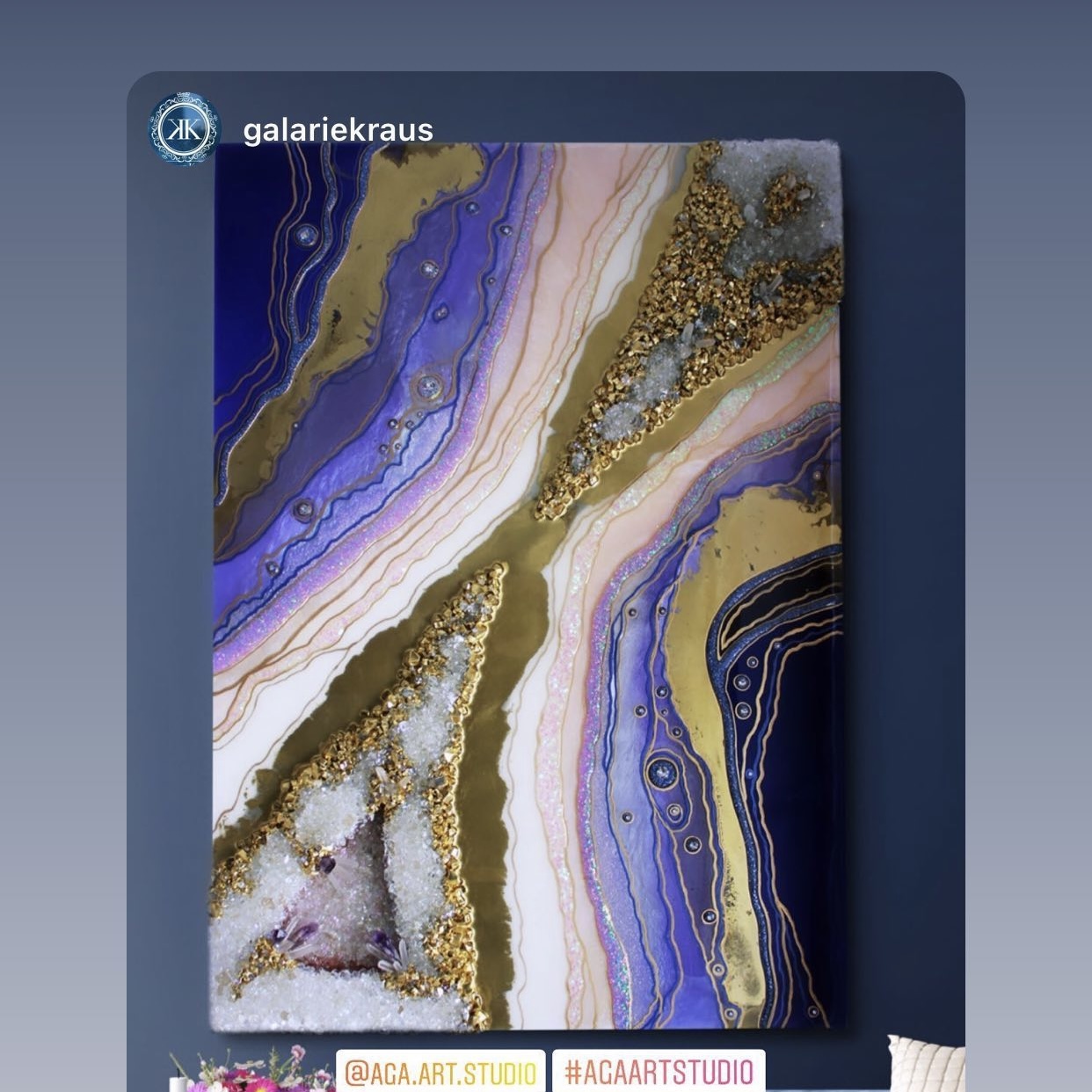 " Thank you for the wonderful lessons "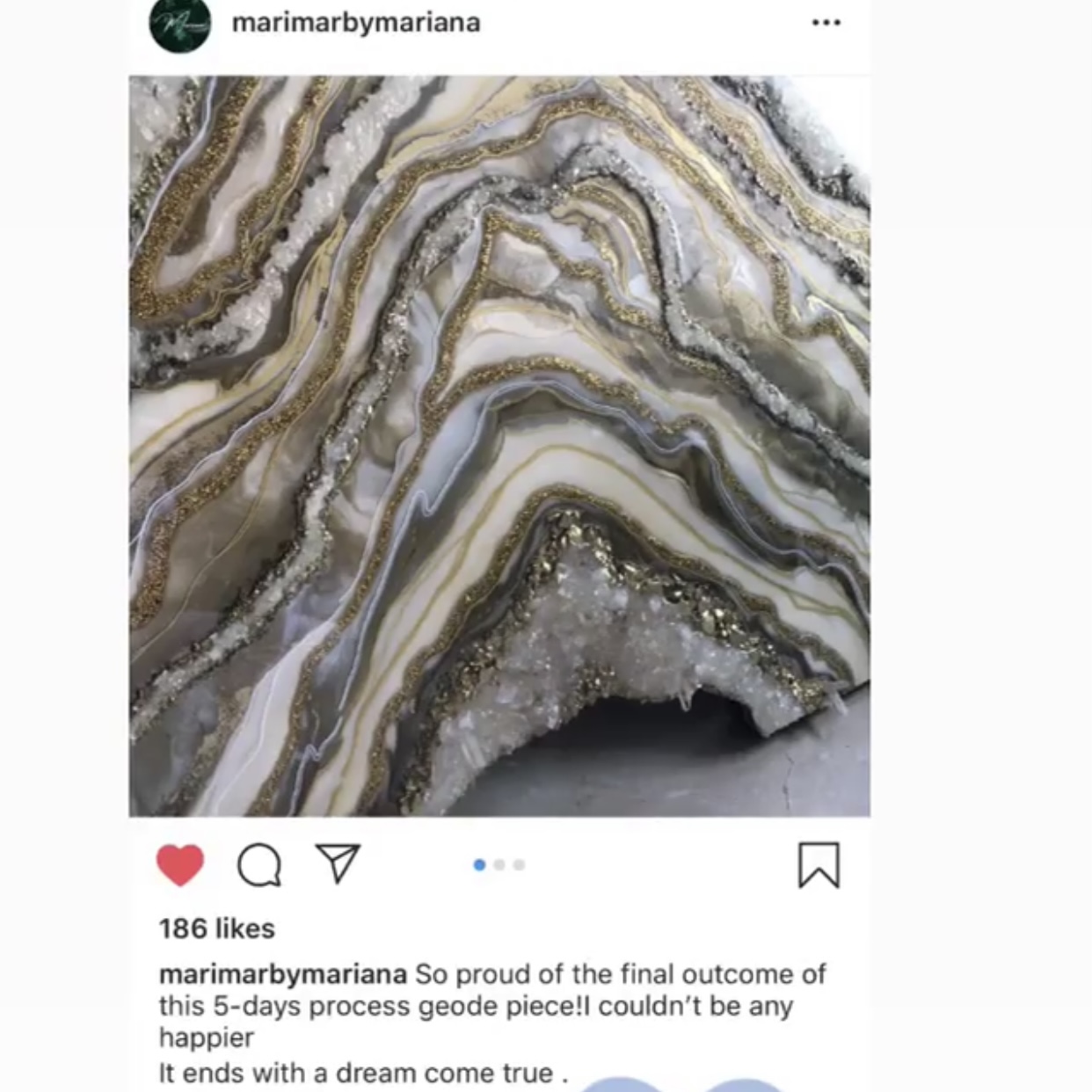 " I can't begin to explain how much tips & tricks I have learned during my online courses with Aga Art Studio. The whole process was well explained and unbelievably easy to follow. It was worth every second as it has allowed me to reach the level I have always wanted to attain. HIGHLY RECOMMENDED "
MASTER OF RESIN
GET CERTIFIED BY ARTIST AGNES RUP

WHAT'S INCLUDED IN DETAIL:

STARTING WITH RESIN + BONUS CLASS
(6" x 6" or "12 x 12" Art Pieces)
Day 1:
-Familiarize yourself with all the tools and materials so you can prep your panel and handle the resin and blowtorch like a pro.
-Learn to artfully add pigments and create texture points so that your piece shimmers and shines
Day 2:
-Learn to achieve that perfect final coat
Day 3:
-Watch it all come together with your signature and finishing details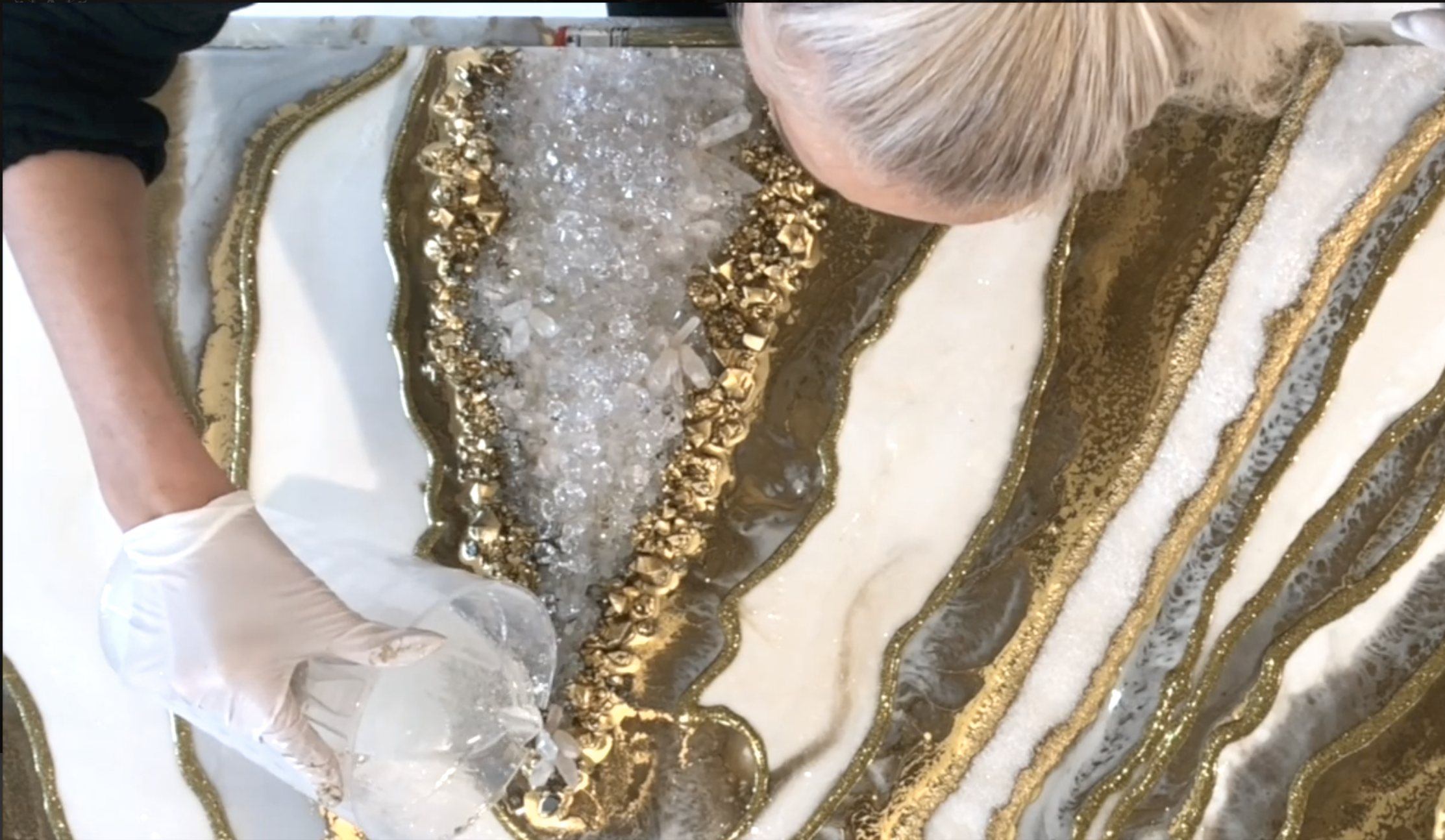 SIGNATURE WHITE & GOLD
(24" x 48" Art Piece)
-Understand the secrets and layers to resin by creating movement
-Learn how to carefully apply glitter, pigments, colour and quartz clusters
-Find out how to achieve the broken stone look using only white and gold
-Create depth with layers of pen lines
-Add your unique touches and see your masterpiece come alive!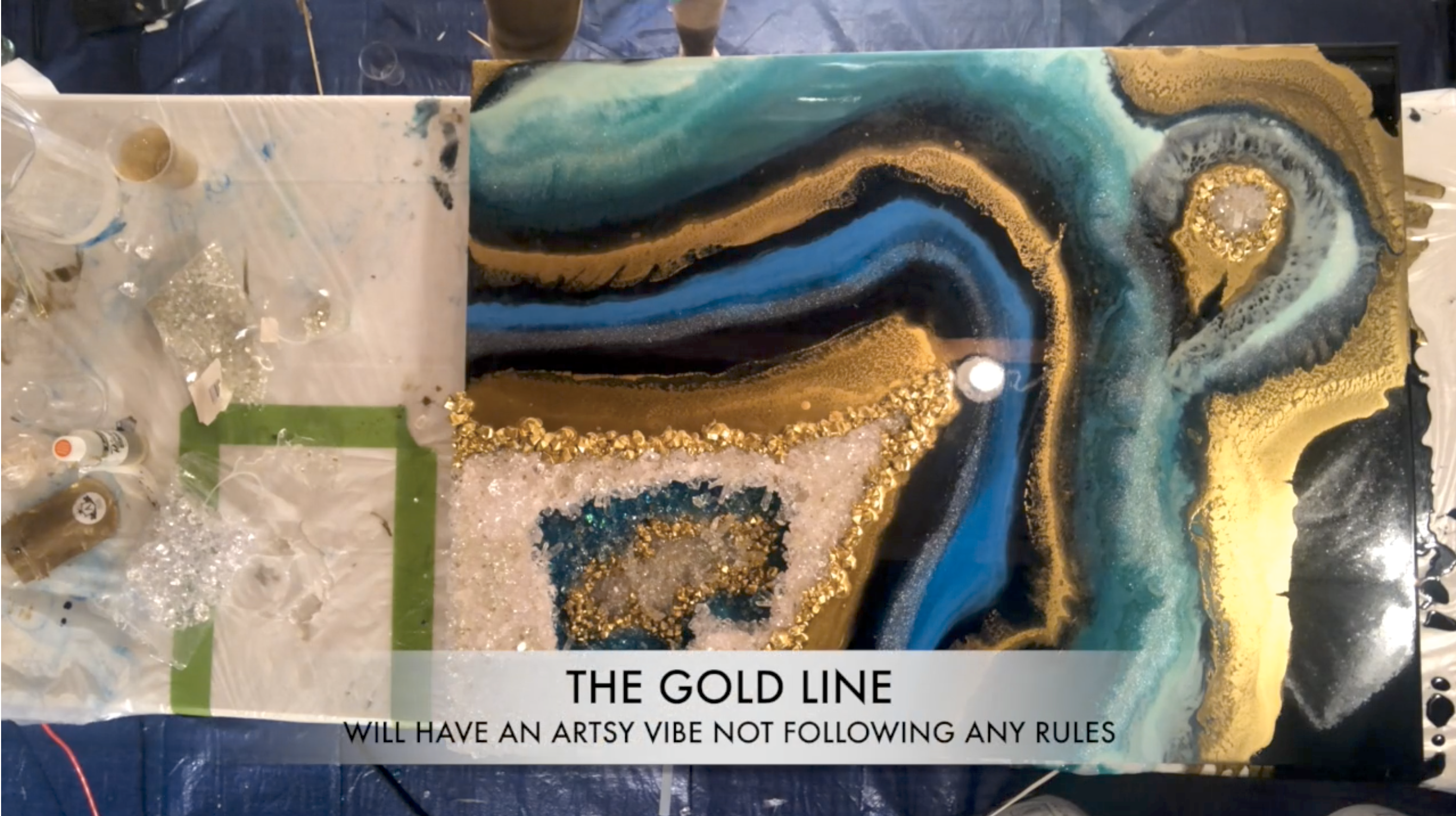 3D MASTERCLASS
(30" X 40" Art Piece)
-Cut the hole and prep the back of your piece to achieve the 3D look
-A new way to blend colors and adding pigments to lighten or darken
-Create coloured gems that won't smudge your art
-Unleash your inner artist and add those paint lines, glitter and quartz
-& other never before shared secrets!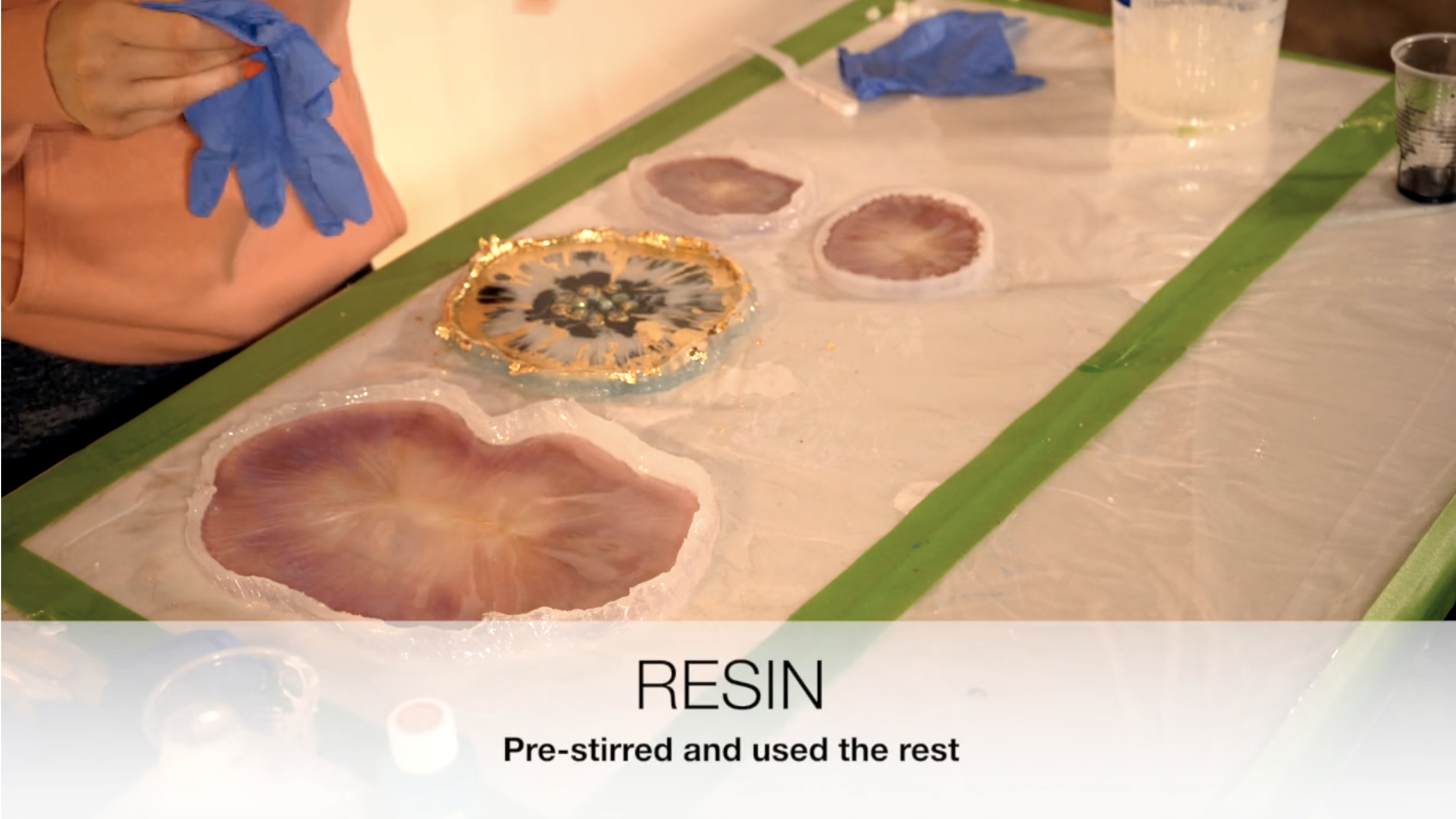 FUNCTIONAL ART
(CHEESEBOARD, COASTER + TRAY)
-Familiarize yourself with the basics of ventilation, mixing, and pigments
- Learn how to make your own tray mold out of silicone
-Apply our pouring techniques to achieve the agate stone look
-Pour a perfect final layer, sand and paint the sides, and you'll have yourself a brand new cheeseboard & matching coasters!
YOUR RESIN BUSINESS STARTS HERE
Entrepreneur's Dream: Unlock Your Path to Business Success with the Ultimate Business Setup Complete Set GET 12 CLASSES
+ BUSINESS GUIDE - $2,500
Value





Are you ready to turn your entrepreneurial vision into a thriving reality? The journey of setting up a business can be daunting, but fear not! I've curated the ultimate business setup complete set specifically designed to guide you through every step of the process.
Are you ready to seize this opportunity and build a business that surpasses your wildest expectations?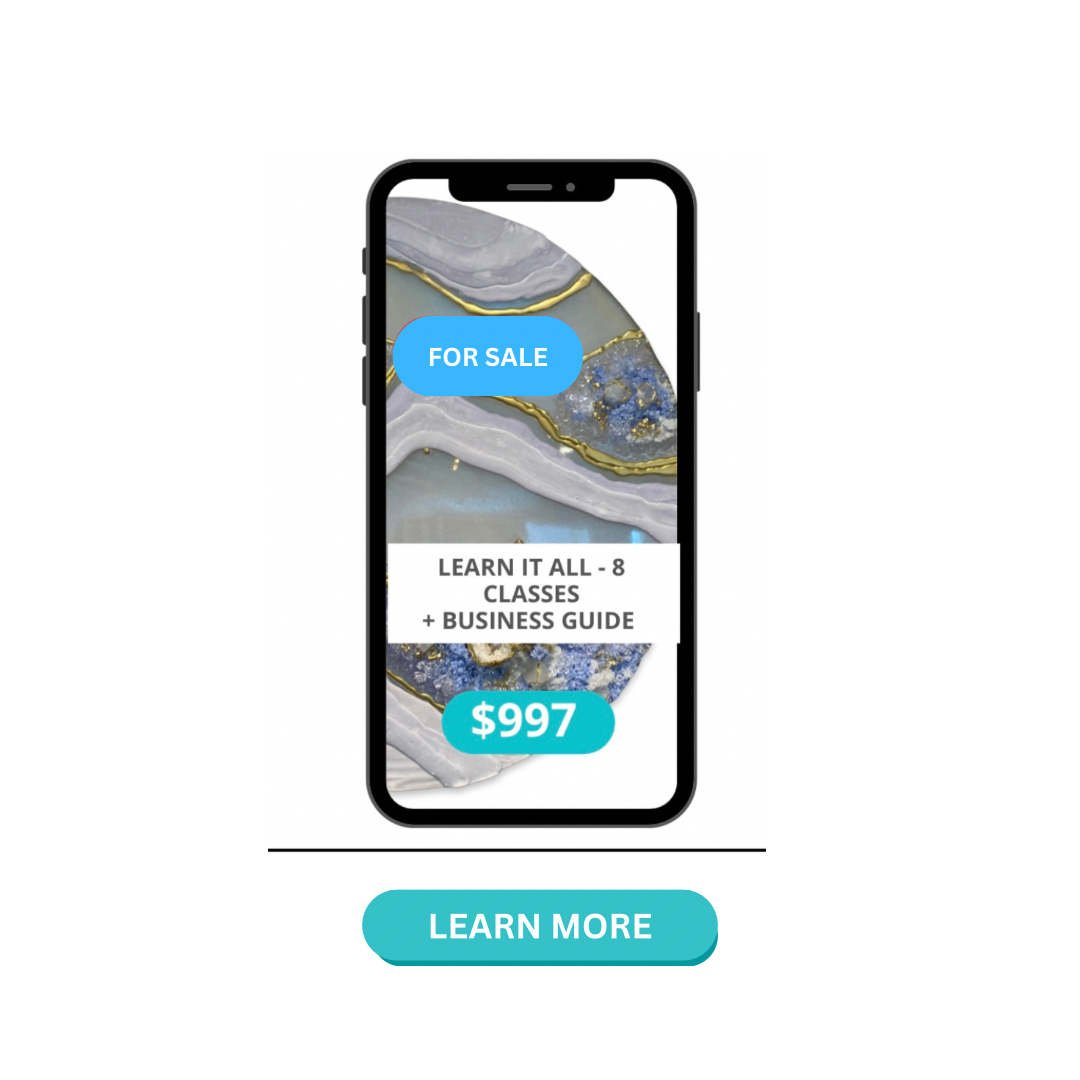 WHY YOU SHOULD START HERE:


SAY GOODBYE to the difficulties of acquiring knowledge from an artist through traditional means. No more searching for classes in a city far from home and dealing with the added expenses of travel and accommodation. Our online classes offer a solution that is both convenient and cost-effective, allowing you to learn from the comfort of your own home. Say goodbye to the hassle and embrace the ease of online learning with us.

With Agnes, you can easily recreate her stunning artwork without having to navigate through a sea of information from various artists on YouTube. She provides all the necessary details in one place, so you can avoid confusion and save time. Additionally, if you have any questions, the full set includes access to a Telegram chat where you can connect with other resin artists. So, say goodbye to the hassle of piecing together information from multiple sources and join the Agnes community today!
COURSE BUNDLES
BEST OFFERS TO LEARN THE MOST WITH THE BIGGEST SAVINGS




FREQUENTLY ASKED QUESTIONS:
When does the course start and finish?
The course starts now and never ends! It is a completely self paced online course - you decide when you start and finish
How long do I have access to the course?
How does lifetime access sound? After enrolling, you have unlimited access to this course, across any and all devices.
What if I am unhappy with the class?
We would never want you to be unhappy! If you are unsatisfied with your purchase, contact us in the first 30 days and we will give you a full refund.