UNLOCK YOUR POTENTIAL THIS ISN'T JUST ANOTHER COURSE
I was once in your shoes—knowing nothing about resin or where to begin. But if I could do it without guidance, I'm confident you can do it with my expertise help!
Experience the world of resin art, pouring from cups to create captivating pieces infused with real quartz crystals. It's that simple with my easy-to-follow guidance.
My mission is to empower women through art, and my new Signature Masterclass Course will take you from a beginner artist to a master!
🎨 Extra Income Potential: Explore the growing market for resin art, where your creations can find a home and admirers. Some of our students see this as an opportunity to create and sell their art, turning their passion into a profitable venture
I've NEVER bundled all my classes, which usually go for $1,800 at such a deep discount before. This is a limited-time offer with limited space.
Creativity is a priceless gift we can give ourselves.


My goal is to empower women into their therapeutic art journey by giving ACCESS TO 14 WORKSHOPS at $33 EACH. 🤯
Creativity is a priceless gift we can give ourselves.
MY HOLIDAY GIFT 🎁 TO YOU, $100 GIFT CERTIFICATE! TOWARDS TODAY'S PURCHASE! There is only 20 available and they are being used up quickly! I know around this time, we are looking to purchase for others.
Why I made this usable towards your payment plan! Meaning your first payment this month is ONLY $25!

Have Any Questions? Reach out
on INSTAGRAM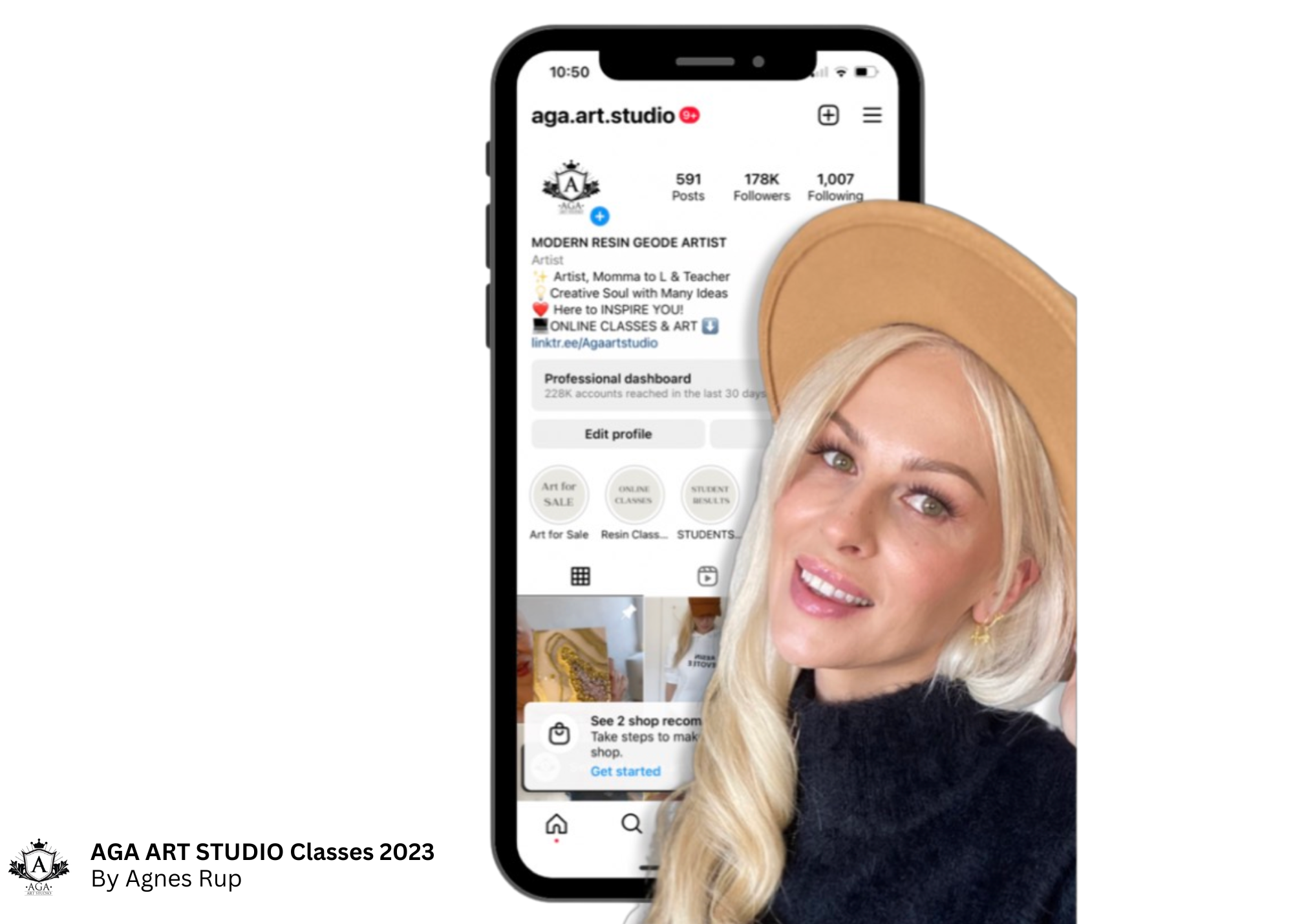 GET CERTIFIED BY MASTER RESIN ARTIST AGNES RUP


"As a self-taught artist, I poured years of research, resin, and countless hours into mastering these techniques. I've faced my fair share of mistakes and shed a few tears along the way, so you won't have to go through the same struggles. My aim is to make it all accessible to you, ensuring your journey is smooth and free from unnecessary hardships.
If you have any questions, don't hesitate to reach out to me at [email protected].
Here's to your artistic journey!
Warm regards,
Agnes Rup"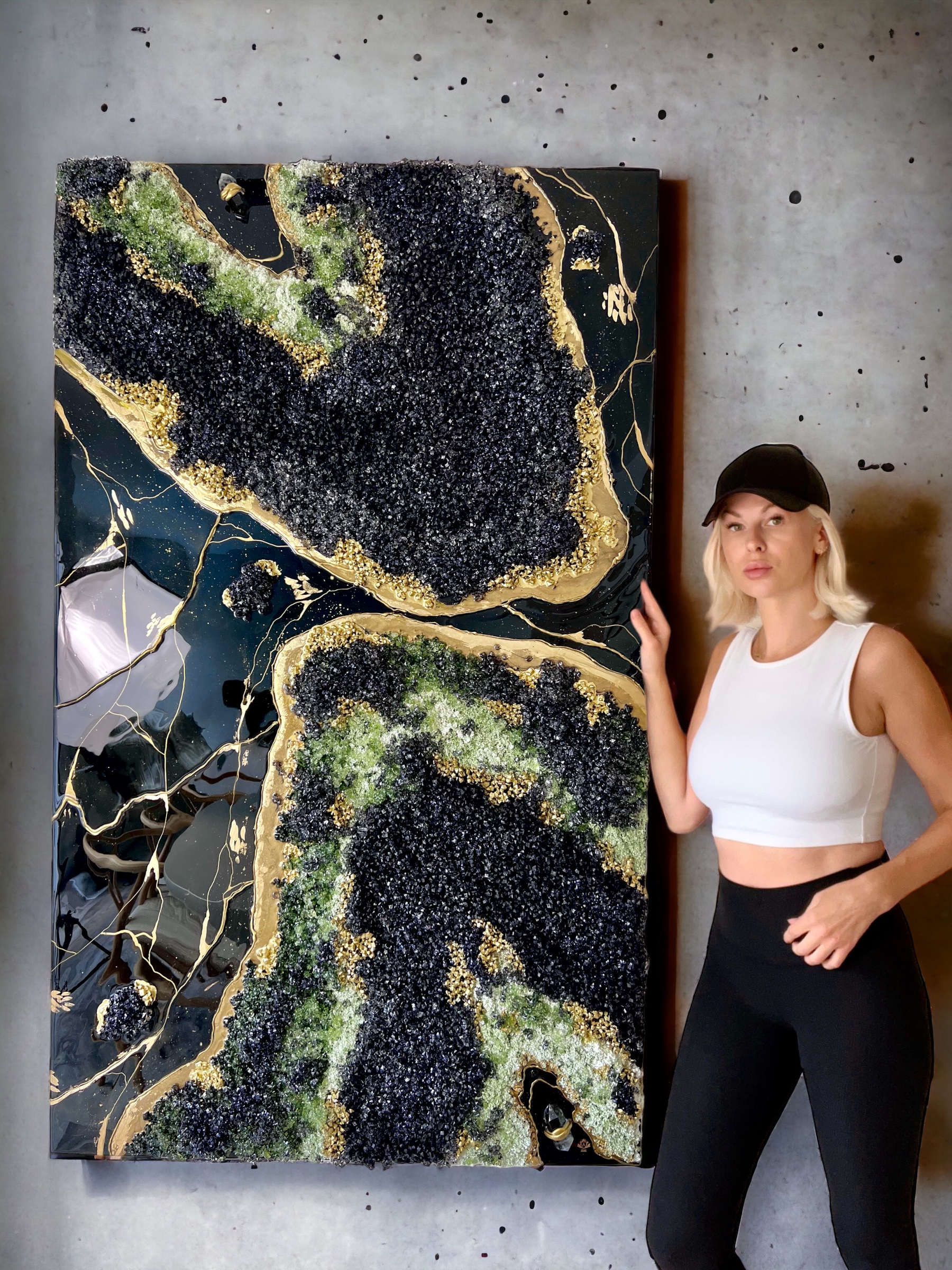 STORY TIME... How Resin turned from my sanctuary space to a thriving business!
Who am I and Why You Want to Learn from Me!


I was once trapped in the demanding world of corporate life, I felt overworked and unfulfilled, longing for a spark of passion. Little did I know that my salvation lay in the captivating realm of resin art.
 It all started as a therapeutic hobby, a way to escape the daily grind and rediscover my creativity. As I immersed myself in this mesmerizing medium, a newfound sense of joy and purpose emerged.
Resin art became my sanctuary, where I found solace and expression. The more I delved into it, the more I realized that this was my true calling.
With time, my hobby transformed into a thriving career, allowing me to break free from the chains of the corporate world. 

Now, I stand here, humbled and excited to share all the knowledge and experience I have gathered over the last 7 years with you. 
Let me tell you what sets me apart – I'm not your ordinary artist! I'm a visionary leader always seeking new techniques and pushing the boundaries of resin art and how I can stand out. I can't wait to reveal all my tips and tricks to help you create jaw-dropping art like never before.
So, why choose my pre-recorded workshops, you ask? Well, let me tell you – they are a game-changer! With my workshops, you can work at your own pace, explore over $1,800 worth of valuable content, and tap into my vast knowledge of resin techniques. The best part? It will unleash your creative potential, inspire you to get started and you work at your OWN PACE!
I promise you, my workshops are not just about art – they're a therapeutic journey too! Let your worries fade away as you immerse yourself in the mesmerizing world of resin art. It's not just a hobby; it's an escape that fills your heart with joy and creativity. 
I believe in the magic of art and its power to transform lives, and I want you to experience it too. Trust me, my workshops are more than just a class – they're a chance to embark on an unforgettable creative adventure together!
I could go on, but why don't you look for yourself , some of the workshops waiting for you to discover....

+ Be part of the Exclusive Student Community
14 WORKSHOPS
SECRETS REVEALED!
MAKE OVER $5,000 WORTH OF ART IN THESE WORKSHOPS!

WHAT'S INCLUDED IN YOUR SIGNATURE MASTERCLASS COURSE

14 WORKSHOPS - |$1,800 
NOW $467
WHAT'S INSIDE:

Unlock the Resin Art World: 14 Inspiring Workshops for Beginners to Intermediate Artists!


Where you can develop your own style after learning 14 different techniques!
Classes Included:
Beginners Guide to Resin Art Class - Create a 12"x12" Art Piece
Resin Flower Class
Signature White and Gold Class - Craft a 24"x48" Art Masterpiece
Coasters + Tray
Cheeseboard
3D Master Class - Craft a Stunning 30"x40" Artwork
New Textures
Resin-Only Circular Mold
Working on Canvas
Grape Agate in Cotton Candy
Resin Quartz
Gold Leaf Lines
Blue, White, and Silver Geode
Jesmonite + Resin
Course Highlights:
✅ Master Fundamentals & Advanced Techniques
✅ Lifetime Access & Community Support

Discover Your Art's Potential:
3D Masterclass (30"x40" Art Piece)
Unlock the secrets to creating an eye-catching blue/green geode with a 3D effect on a 30"x 40" panel. This class provides:
Techniques to create the illusion of depth in your artwork.
Tips for blending colors and enhancing pigments.
Crafting colored gems without smudging.
Secrets to adding paint lines, glitter, and quartz to elevate your art.
Average Selling Price of Resin Art: $1 per square inch = SELL IT FOR: $1,300
Signature White & Gold (24"x 48" Art Piece)
Explore Agnes' Signature White & Gold Geode, a shimmering masterpiece capturing both daylight and nightlight. Learn:
The secrets of resin layering for movement.
How to expertly apply glitter, pigments, color, and quartz clusters.
Achieving the stone look ONLY using white and gold.
Creating depth with layers of pen lines.
Adding your unique touches to bring your masterpiece to life.
Average Selling Price of Resin Art: $1 per square inch = SELL IT FOR: $1,150
Functional Art (Cheeseboard, Coaster + Tray)
Delve into the beauty of functional art, make your own silicone molds, and explore new pouring techniques. Create a stunning pink and purple tray with matching coasters, and try your hand at a kitchen-worthy cheeseboard. Learn:
The basics of ventilation, mixing, and pigments.
How to craft your own silicone tray mold.
Pouring techniques to achieve the agate stone look.
Final layer finishing, sanding, and painting for a complete set.
Average Selling Price of Functional Art: SELL IT FOR $150
Join Agnes Rup for an Artistic Journey: Her classes are divided into days of immersive learning, and there's a certification of completion at the end of the Signature Master Course. Don't miss your chance to unlock the potential of resin artistry!




What You'll Need to Work with Resin
+ a peek into my teaching style, I reveal it all EVEN my SECRETS!!! Things you WON'T FIND ON YOUTUBE! Don't have an extra room, garage and basement work too!

LEARN THE TECHNIQUES TO REMAKE THIS ART PIECE

REMAKE THIS BEAUTY! RESIN ON RESIN! One of your 14 workshops!

PROVEN RESULTS
STUDENT WORK & REVIEWS:

Frequently Asked Questions
What is needed to work with resin?
A separate space-room/garage/basement and proper + PPE a half respirator & gloves.
When does the course start and finish?
The course starts now and never ends! It is a completely self paced online course - you decide when you start and finish
How long do I have access to the course?
How does lifetime access sound? After enrolling, you have unlimited access to this course, across any and all devices.
What if I am not happy?
No worries, you have 15 days and if your're not happy you can get a refund. There is so much information we are positive you'll learn so much!
WHAT WILL YOU CREATE?
Here to Inspire You

Check your inbox to confirm your subscription