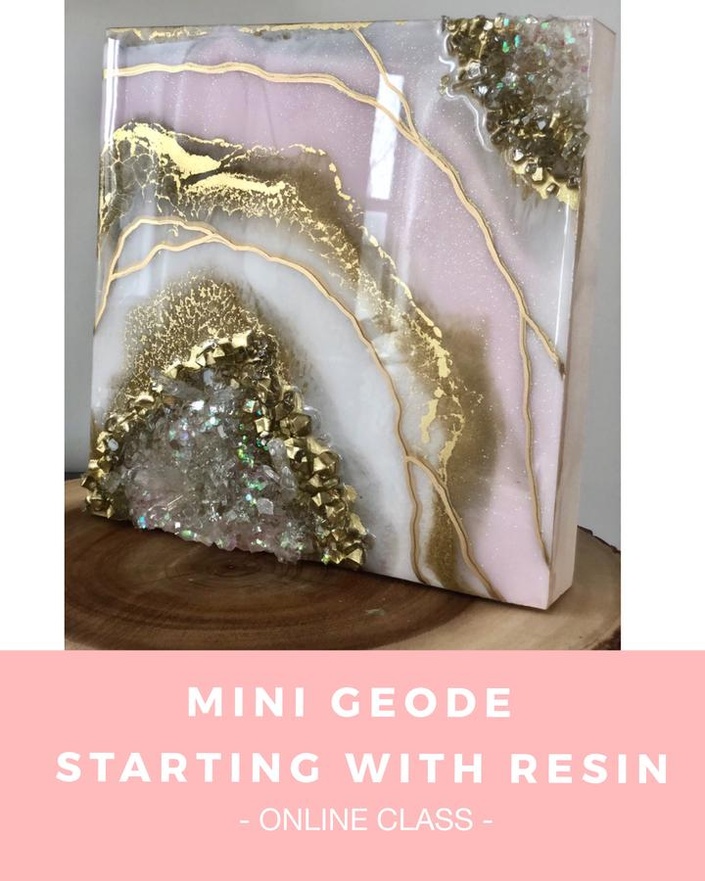 Mini Made with Local + Amazon Finds
Step by step instructions on how to work with RESIN
INSTANT ACCESS UPON PURCHASE

"RESIN GEODE ART, PIECES TO ENHANCE YOUR MOOD SPACE"
I HAVE SEEN THIS BEAUTIFUL ART BUT CAN MAKE IT?Yes,
follow the steps we provide to create this eye capturing art by mixing colors, glitters, resin and then pouring it from a cup onto a wooden panel. We then use a heat source to blend the colors together, no need to be an artist to accomplish this project.
It looks complex, but when broken down we create:
SIMPLICITY and the doubt disappears.
Don't be intimidated by resin art.
WHO ARE OUR CLASSES BEST SUITED FOR?
Do you enjoy convenience?
Then you are in the right spot.
Our classes flow, starting with a clickable material list and a 20% discount on AGA ART STUDIO materials for our students. Our classes are self paced, no need to rush as you have endless access to your classes.
There is no need to find where Agnes Rup is holding her next class and most times not in your city, you get to do it from the comfort of your home. STOP searching YouTube and trying to piece things together and skip costly mistakes.
SIMPLE. EASY.
If you love simple, you will enjoy these easy to follow along classes that are broken down in days.
The wonderful thing about our classes, they are pre recorded so you have the option to watch on your schedule and re-watch again! Stop, pause and don't loose your spot. You can also watch at 2x faster rate!
"This class will go over all the basic NEEDS of resin.
NO need to try and figure out things for yourself when you can be taught by resin Artist Agnes Rup.
The steps are easy to follow and you can go back for reference."
- Student
STARTING A SMALL BUSINESS WITH RESIN ART?
A hobby that can make passive income?
Yes, many of my students have turned their hobby into a side business and some are full time artists! The world of resin is addictive, when you start I can guarantee you won't stop at just one piece of art. This is a great way to off set costs for supplies too, I highly recommend to sell a few pieces.
If you do plan to go this route, then I recommend diving deep into the full set of 5 classes, only because this is the basics. The tips and tricks are in the other classes and that's how you can scale your art to another levels.
Places to sell? Etsy, Facebook market place, Instagram
WHAT YOU CAN SEE FROM TAKING ALL OUR CLASSES.
THINGS YOU WILL LEARN: adding real quartz stones, blending techniques, adding gold glitter lines, working in layers and much more. These things are not taught in the basics of resin and are a must if you plan on selling your work.
PRICES YOU CAN CHARGE BASED ON OUR CLASSES:
PINK MINI (RESIN BASICS) 12" x 12" -- $108 average selling price
SIGNATURE WHITE & GOLD CLASS 24" x 48" -- $850 average selling price
3D MASTERCLASS -- $1000 average selling price
A WORD FROM RESIN ARTIST
AGNES RUP
Hello and WELCOME,

I am already excited for you to start your resin journey, one of my favourite parts is when students reach out and share their work. They were in the same spot as you and now they creating beautiful art pieces.
If you're looking for a creative outlet you have found the right medium to work with! Do not be intimidated by resin, if you follow the steps you'll succeed. I really hope that I can guide and we can skip those costly mistakes that I have definitely made.
It's also very important to START branding your self, so make an art account on instagram when you start tagging your art! I share with my followers on my stories, another bonus if you want to start selling.
Take a peek at my website:
A STEPPING STONE, THIS WILL OUTLINE THE BASICS SO YOU CAN GO INTO LARGER PROJECTS WITH CONFIDENCE
- Explaining the basics of resin, work time, proper ventilation and protection
- Explain equipment you will need to start your journey into resin
- Links to products needed for your class
2 DAY CLASS:
- Re-making of the "Baby Pink Nights" MINI Geode 12"x 12"
- Easy to follow along
- Stop, pause and reply

WHAT OTHERS HAD TO SAY ABOUT OUR CLASSES:
LIDIA
-Great Course
I came across Resin Art about a month ago and was instantly smitten. I've always loved art and creating beautiful things and Goede Resin Art - done properly is absolutely stunning. I had started experimenting with Resin and watched tons of online videos but nothing compared to this course. I could tell watching the random online video tutorials that something wasn't right - My gut told me this art is layered and wasn't something that would be completed in 30 or 60 minutes. This course answered that nagging question and gave me all the tips and tricks necessary to gain the confidence I needed. It also saved me a lot of time experimenting. I've already created 2 small pieces (my first geodes) and they look fantastic! I can't wait to create more. I am hoping that I can generate an income from my art as I gain more confidence and create more pieces. Thank you so much for offering this course and I hope to share my pieces with you sometime soon. I highly recommend this course it to anyone that wants to learn.
MARIMAR
- Outstanding Course
"I have been searching for online classes for so long! This one right here was super straightforward, the steps were super easy to follow, overall, I highly recommend for anyone to take this course! Thank you for letting me complete a goal in my to-do list! Looking forward to more online courses 🙏❤️''


#STUDENT WORK:
STARTING WITH RESIN (MINI GEODE):
What Our Students Say:
Learn with your teacher Agnes Rup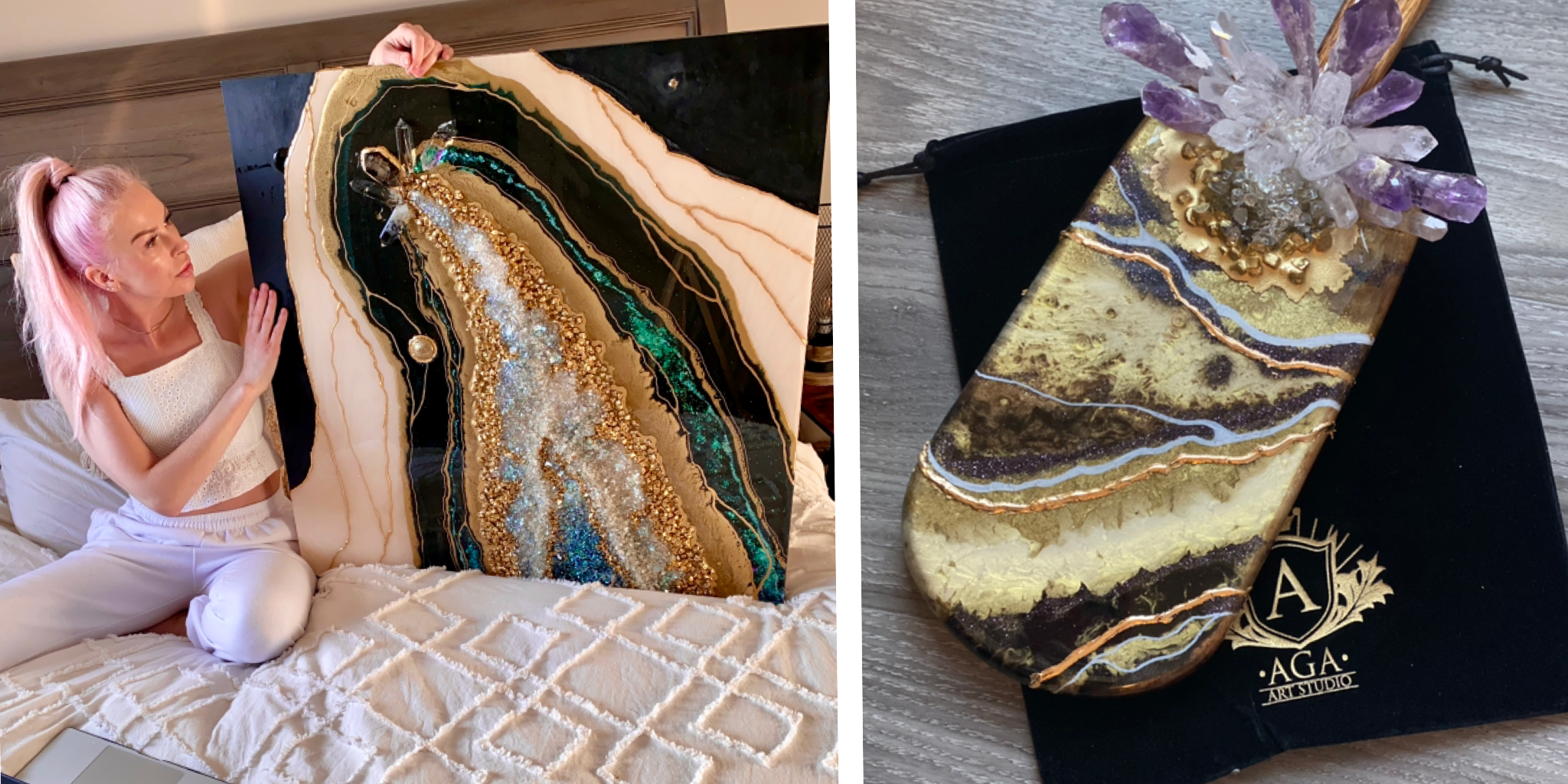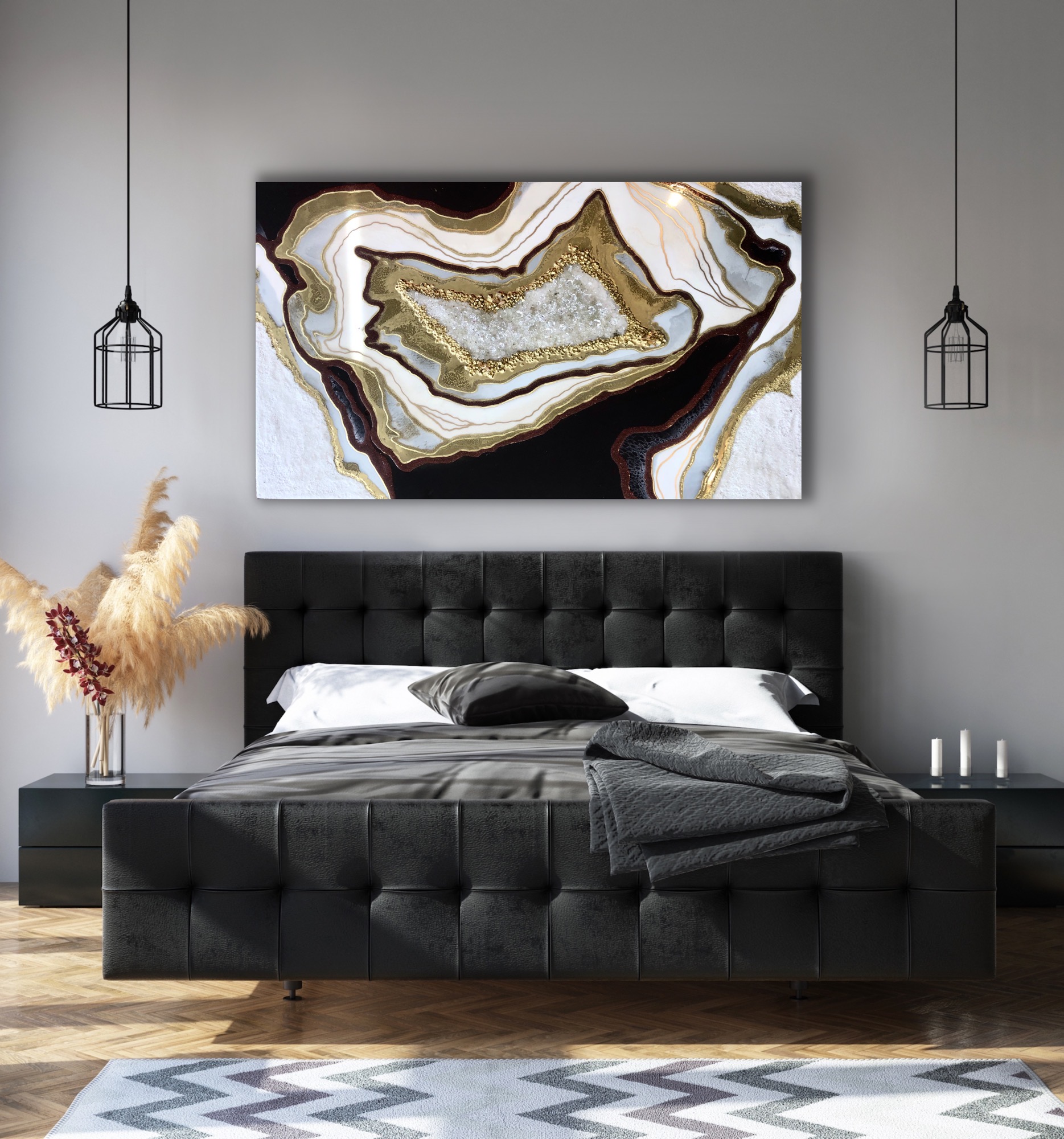 Your Instructor
Course Curriculum
First Section
Available in days
days after you enroll